Cover: David Lafuente
Writer: C.B. Cebulski, Kathryn Immonen
Pencils: Sara Pichelli, Patrick Spaziante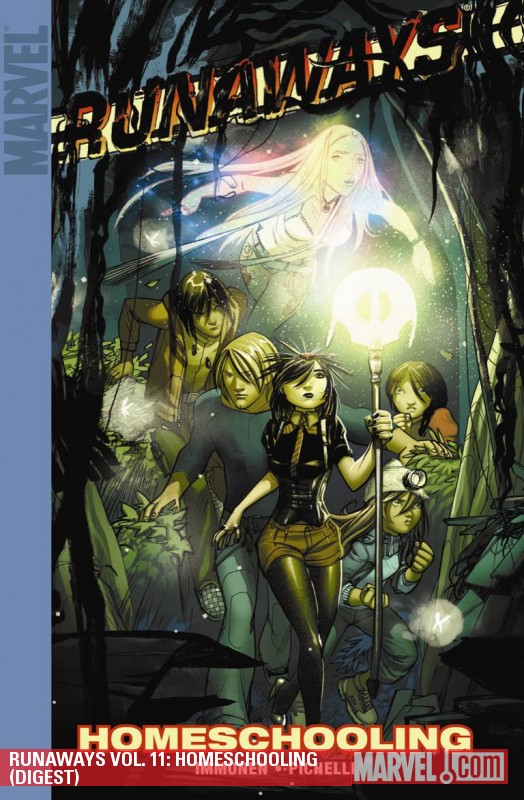 I have been a longstanding reader of the Runaways. The Marvel digest format reprinting the books makes it wonderfully affordable, and really is the key factor that keeps me coming back for more, even after a lot of changes to the creative team over the years, from Brian K. Vaughn to Joss Whedon.
The Runaways sort of appeals to me in a way that the New Mutants used to do, as kids in the Marvel Universe, they can act as a tour guide for the MU for newer readers because they also have to be introduced to many facets of the world in which they live.
I'm not all the way through this volume yet, though I am liking it enough to feel comfortable to write about it. The last few books had the kids running all over the place, and through time, and to have them back in the now and without all the crazy Marvel crossovers getting in the way, it feels a lot more like the book I got hooked on and liked so much. the writers do a good job of having the team start to feel a little more like they are Runaways again, while at the same time they keep pumping out the heart-wrenching teen-melodrama that contrasts itself so well against the action and explosions.
Also, I have to show support for anything published in the Marvel Digest format. I wish that Marvel would pump out a few more titles to be collected in this manner. I know that at the very least, my overloaded and sagging bookshelves would appreciate it as much as my wallet does.
11 volumes is a lot, upon reflection. Runaways isn't my favorite comic book. I mean, I do like it, but I don't get really anxious or excited to get the next one. I guess that shows how much I really do like the digest format, as I keep it on my pull list no matter what.